Why Are Design Sprints Useful to Product Managers?
As the individual responsible for making the big decisions and prioritisation of tasks, the product manager is able to benefit hugely from undertaking design sprints. In this blog, we'll outline the key benefits before expanding upon each point in more detail. We'll conclude by exploring how involved a product manager should be throughout the sprint process.  
So, why are design sprints useful to product managers? Essentially, product managers benefit from design sprints because the intense process allows the team to quickly identify the key problems to solve. Using rapid prototyping and user feedback, the sprint is a fantastic way for a team to produce brand new ideas and concepts.
Read on to find out more about how product managers can benefit from design sprints and where to find any important information you may need.
Why Do Product Managers Find Design Sprints Useful?
First and foremost, we'll highlight the main reasons why product managers find design sprints so beneficial. Here is everything you need to know: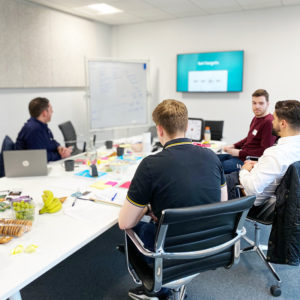 1. They help you understand if your product is on the right track
Often, the biggest problem when teams are proposing an idea or launching a new product is that they assume they already know what their customers want. This is where design sprints come in handy because they help teams answer those big challenging questions. This means that the product manager can create backlogs based on validated user needs that solve genuine business problems, rather than those based on gut feeling. 
Sprints are a great way of reassuring a team that they are on the right track and if an idea is worth their time and effort. As a result, the entire team can plan and prioritise feature releases, based on actual user feedback rather than hypotheses. 
2. They help everyone align on a single path forward
Sprints are an effective way of making sure that everyone is on the same page – from understanding the problem at hand, figuring a solution and estimating the efforts needed. This directly benefits the product manager because work delegation and team planning are established efficiently in the process. 
3. They bring everyone into the design process
Design sprints provide the opportunity for everyone to contribute to the success of a product. This is because decision making is democratic and nobody in the team holds a passive role at the sprint. The success of the process relies upon the diversity of a team, brainstorming ideas together.
According to Douglas Ferguson, Founder of Voltage Control, the entire team benefits and learns from working collaboratively, '"Simply getting people talking, disconnected by an organisation's complex structure, is an undervalued part of the Design Sprint process." 
As all individuals in the team are given equal responsibility for effective decision making, there is less pressure put on the product manager to make the decisions alone. 
4. They help you get into a prototyping mindset
Running design sprints allows product managers to adopt a prototyping mindset. This helps them justify if a product will get traction before they write a line of code or get emotionally invested in their ideas.
Sprints are about moving from 'perfect' to 'just enough', from long-term quality to a temporary solution. Instead of spending months on design and code, it is best to build a facade to get quick, honest feedback from users. Because design sprints produce tangible results so quickly, team's roadmaps instantly become pragmatic. It's then down to the team to decide whether to create or alter this roadmap, change priorities or go straight into development. 
5. They show the power of great design for business outcomes
Design sprints bring business goals and design processes together in three main ways: 
A high-fidelity clickable prototype that looks and feels like a real product

Usability test results and recordings of actual users

Insights and recommendations from usability testing to improve the product
Building a prototype to quickly test its potential can help product managers effectively raise funds and unlock budgets for ideas that might have otherwise ended up on a back-burner.
6. Even failure isn't a failure
Even if the design sprint does not end with a validated prototype, it does not mean it is necessarily a failure. If the team doesn't find a working solution, they can re-look at the original problem and how they understood it. 
There may well be more questions than answers, which only means the team has more to consider before building the product or service. This can certainly be treated as a positive thing because feedback from users can help a team come up with their next great idea. 
How Can Design Sprints Benefit Product Managers?
This table summarises some of the key benefits design sprints have for product managers. 
| | |
| --- | --- |
| Why might a product manager consider a design sprint? | Benefits |
| Saves time | Sprints save months, even years of wasted efforts towards issues that benefit the end user. |
| Saves money | Companies can save money because the process is packed into a single week. |
| When the product is risky | The framework is excellent for reducing risk, clearing up ambiguity, and unpacking complex problems. |
| To adopt a prototyping mindset | Rather than spending months on design and code, a high-fidelity, clickable prototype is enough to get honest feedback from users. |
How Involved Should a Product Manager Be in the Design Sprint Process?
Whilst the design sprint is primarily based around collaborative working, the product manager is still expected to lead in the understanding of the business and prioritising decisions accordingly. After all, the product manager, also known as the 'Decider' is ultimately responsible for making the final judgement call. They should be available at all times during the process to share insight, manage information appropriately and ensure all tasks are completed.  
To find out more about the responsibilities and qualities of the product manager, be sure to take a look at our recent blog.
Design Sprints with PixelTree Media 
Now that you know why design sprints are so useful to product managers, it's time to act! Take a look at PixelTree's design sprint service.
We also offer a design sprint workshop, ideal for people looking to test new concepts before fully committing. 
Kickstart your design sprint process today by downloading our FREE guide or getting in touch with our friendly team.