7 Top Tips for better efficiency when collaborating remotely
Having run many in person workshops and design sprints over the past 12 months, the 'lockdown' which has come into force across Europe due to Covid-19 initially knocked us for 6!
Fortunately, due to our flexible policy which provides the provision for home working, we know what's needed in order to switch to running workshops remotely. Over the last 5 years we have needed to collaborate remotely with team members and clients for different reasons and during that time we have experienced the pit falls and made our fair share of mistakes…so we thought we would share 'top tips' from our knowledge gained through running both internal collaboration workshops and live client remote sprints.
Tools
Before we detail our tips, let's start with a breakdown of all the tools we mention in this post. This post isn't sponsored so we've also listed alternatives, where applicable, should you wish to switch up your stack with tools that you are more familiar/comfortable with. (We're not sponsored but happy to take sponsorship donations in the future ?)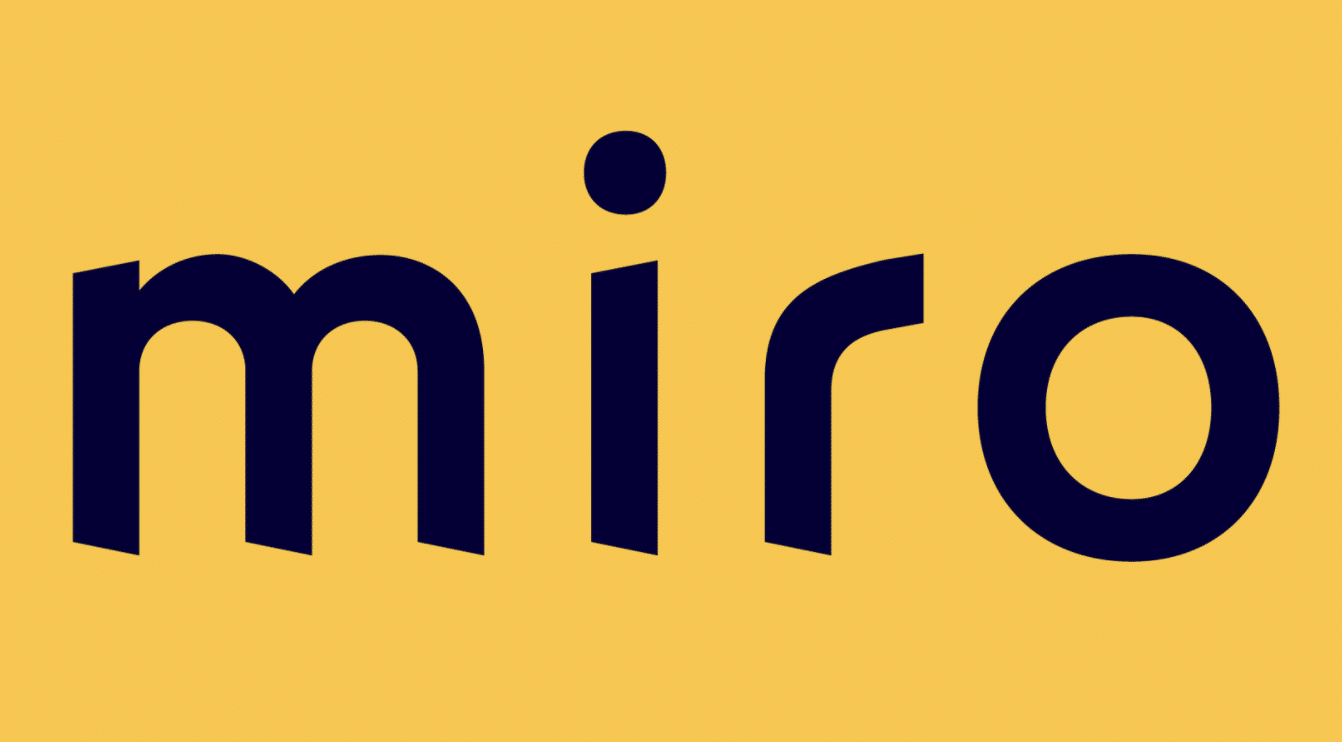 Miro is the online whiteboard software we use. This is a great tool which allows multiple co-workers, clients, facilitators etc to come together remotely and collaborate on a virtual whiteboard. Pretty much everything you need is covered in Miro including post its, timers, screen sharing and shape building. Alternatives include Mural, Invision Freehand and Google Slides.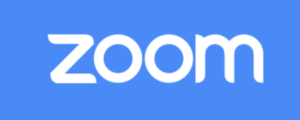 Zoom (surely everyone has heard of this tool now?) has fast become the brand on everyone's lips during the Covid-19 outbreak. It provides reliable video and audio for large groups, is relatively straight forward to setup and works on virtually every device. In order to collaborate effectively having video and audio is an essential tool. Alternatives include Google Hangouts, Skype and Goto Meeting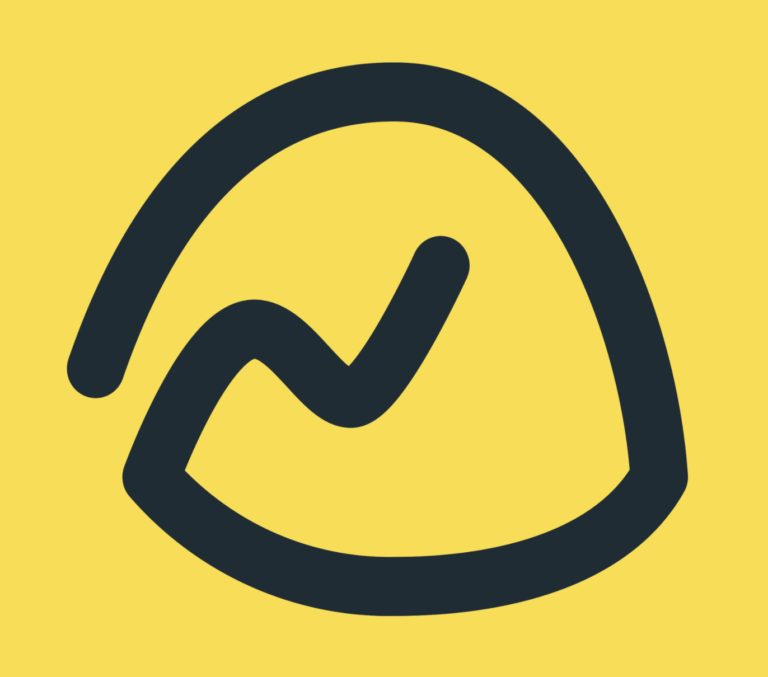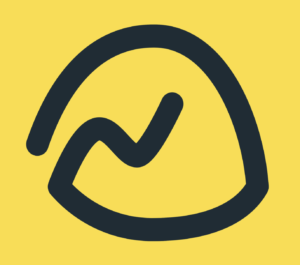 BaseCamp – although not an essential tool for collaborating effectively per se, this tool acts as a central communication hub for everything pre and post Sprint/Workshop. Using a tool like BaseCamp allows your entire team to communicate effectively without the need for endless emails whilst also acting as THE go to for all outputs, consequential task lists, assets and updates.  Alternatives include TeamWork, Microsoft Teams (if you can get over the Microsoft quirks) and Notion
#1 On-boarding
We've learnt the hard way! trying to run remote collaboration sessions or workshops virtually without on-boarding is a painful experience which tends to kill the excitement before anyone has even started. Video not working, participants unable to login, people struggling to use the tools… all of these possible scenarios are to some extent 'unplannable' and therefore give facilitators nightmares! Some, if not all, of these things WILL go wrong especially if you're planning a session with a large group of people. We have the answer… On-boarding! By spending time with participants pre-workshop you save precious time later down the line and avoid those awkward moments where the entire sessions falls flat on its face! Here's how we do it;
Initial Introduction Email – Send out an email to every participant thanking them for taking part in the session/workshop and providing them with a list of expectations and requirements. We always ask for participants to have a quiet space to work from, a notebook and pen, a stable internet connection and a Mac/PC with working Audio and Webcam.
Invite your participants to signup for and join your Miro (or alternative) online whiteboard. Sign up's in advance saves time and ensures nobody is frantically trying to create an account prior to your collaboration session.
Book an on-boarding session – This might seem a little bit like overkill but having an on-boarding call with participants prior to your workshop / sprint is a killer facilitation tip.
Familiarise your participants with Miro – Miro is incredibly intuitive and has taken the majority of our customers minutes to pick up. It's always a good idea to walk them through the software, demonstrating how to navigate around the board and how to pick up and move objects along with creating and editing post its! We always setup a 'skills playground' which allows our participants to play around without the worry of 'messing things up'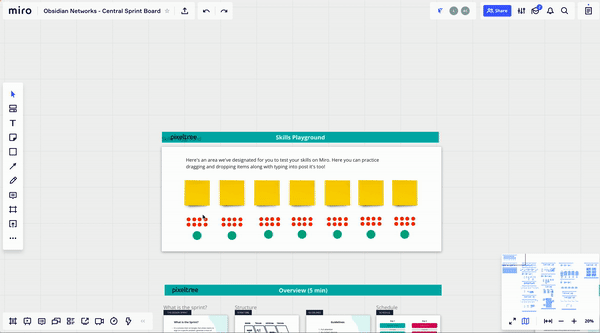 #2 Ice Breaker
We've all been there right? Those awkward first few minutes of any virtual call or webinar where nobody quite knows who should be saying what or who should speak first.. so everyone opts to sit there in silence instead! As a facilitator it's important for you to take the initiative and facilitate those early conversations. We find a quick ice breaker always helps… and you can help people touch up on their virtual whiteboard skills too. There's tonnes of activities you can complete but one of our personal favourites is using the skills playground to create 3 post it notes in different colours before asking them to add the following to each;
Something nobody knows about you
An embarrassing story which has happened to you recently
A famous person you've been told you look like
We then ask each individual to present their post it back to the group… et voila… ice broken and your participants are a little better with the tools already ?
#3 Use a framework
If you're facilitating a remote collaboration session, workshop or design sprint you'll want to use some sort of framework in order to be as time efficient as you can. Frameworks add structure and process to your discussions meaning participants are focussed on the task at hand and don't go 'off topic'. Miro and all the other virtual whiteboard tools we listed have pre built frameworks available for you to choose right from the off. This saves a whole heap of time but if you're planning on running repeat sessions we'd advise setting up your own framework which can be adapted and modified per session at the drop of a hat.
Facilitation tip – be sure to label you frames. This allows your participants to navigate from frame to frame quickly and efficiently, it's also a fail safe way of ensuring nobody drifts off looking at the wrong frame.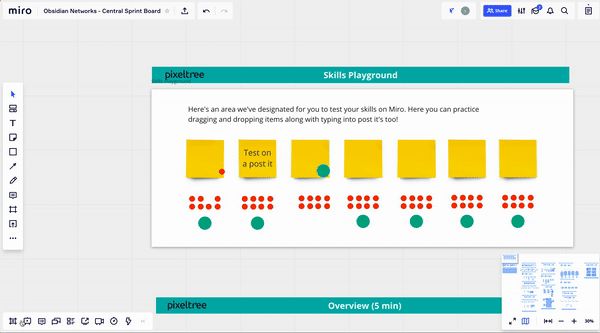 #4 TimeBox
Running a remote workshop or design sprint is intended to cut out the BS, avoid endless unstructured discussion and result in actionable outcomes, faster than any other method. In order to ensure things remain on track, it's imperative you time box every exercise. It's fascinating to watch……giving people restricted time frames to complete tasks helps focus the mind and keep people on track! We've been guilty of being lulled into a false sense of security and ditching the timer half way through a workshop because we felt things were going to plan and we were keeping to time… big mistake! At some point during your workshop somebody will attempt to take you off topic and without a timer there's no easy way to close them down.
Thankfully Miro comes prebuilt with an online timer installed, this means both you and all your participants can see the timer counting down and are alerted when out of time. If you're using another tool that doesn't contain the timer function then checkout Google Chrome's timer extension which can work quite effectively too.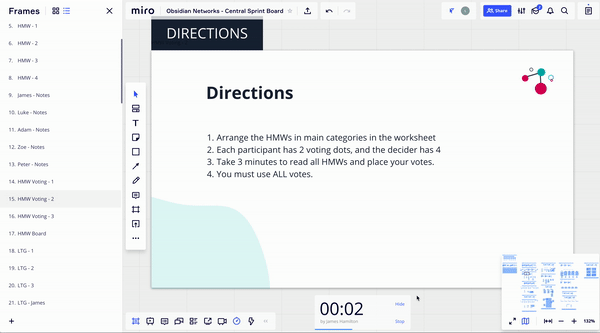 #5 Swap Post Its for Pixels
When you're working collaboratively as a group the last thing you want is everyone calling out ideas at the same time. The same applies in  person collaboration but is even less desirable when you're working remotely using video conferencing software such as Zoom. We find the best way to overcome this issue is using Post It notes. This method allows each participant to contribute without calling out which potentially can cause quieter participants to remain silent. Once everyone has had time to contribute by writing out post it notes you can then complete a "note'n'vote" exercise where all participants can vote on the ideas presented in silence giving you, as the facilitator, a clear idea of the consensus of opinion within your virtual room.
Miro also comes with a really handy tool to transfer physical post it notes to the virtual space too. By downloading the IOS / Android app you can take a picture of your sticky notes and they will be converted into virtual post its – really handy if you're asking participants to work offline prior to collaborating or if you need to quickly switch from an in person to virtual collaboration session!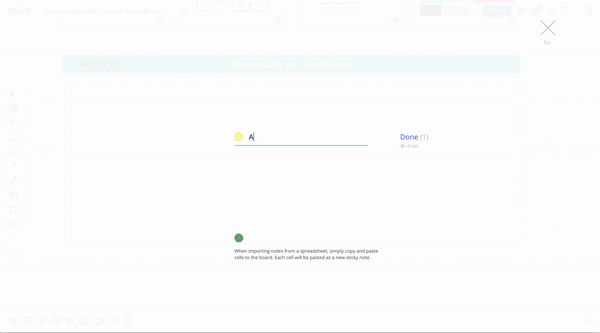 Finally another top tip is the Miro create in 'bulk mode'. Rather than having to create individual post its one at a time, you can choose to create notes in bulk by simply typing and pressing the return key. Hitting return will create a new note ready for you to type into. This is also great for working independently as other participants cannot view notes being created in bulk mode until completed.
#6 Co-Facilitation
This point is particularly relevant if you're attempting to run a workshop or online collaboration session with a large number of participants. Having run a number of virtual sprints in recent weeks with large numbers of participants we've found there can often be challenges which arise which can be solved by co-facilitation. This technique sees a second team member assisting with the facilitation of your session and allows you to partition the group off into two smaller groups. From our experience there can often be a small cohort of participants who struggle with certain tasks or are better suited to working in a closer knit group. During an in person workshop or sprint facilitating this is simple, your co-facilitator simply cherry picks the individuals and peels off to another part of the room to explain in further detail or assist. Working remotely is less simple but do not fear… we have the solution. 
Using a premium Zoom account provides you with the facility to create 'break out rooms' and select users from the main call to splinter off. This allows the co-facilitator to enter a private room away from the main group and work with a smaller team to help explain anything they are struggling and/or assist them with challenges they are facing. Each participant is still using the same virtual whiteboard but now doing so in two small groups. Once the issue has been resolved and the team are ready to unify again you can simply bring them back into the main meeting room and continue on with your workshop!
#7 Vote, Align – go further, faster!
The whole point of running online collaboration sessions or workshops is to overcome challenges within your team/business and identify potential solutions with which you can move forward. In order to ensure things move forward with the buy in and agreement from your team it's essential you conduct regular voting sessions. This can be voting on ideas written on post its, images uploaded to the board, wireframes of a potential concept design, hand drawn low fidelity prototypes… essentially anything you need agreement on!
Miro provides the ability to have your participants virtually vote. This really cool feature allows you to set a time limit together with the number of votes allowed by each participant, meaning you can set the voting task and let your team register their opinion in a democratic and considered manner.
Learn how to run your own Design Sprint!
Download our complete guide to running design sprints!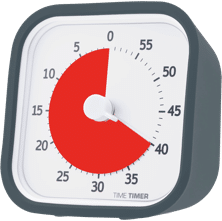 Need help facilitating? Let us take you further, faster!
Drop your details into the form!