What are the steps in a Design Sprint Process?
In early 2016, Jake Knapp published his book on a ground-breaking design thinking approach, the Sprint.
Sprints are an agile approach to product development which would soon become synonymous with successful tech companies having been produced by Google Ventures. But what it also did was offer a framework to companies, big or small, designed to test concepts fast at minimal cost and risk.
Having emerged from the wider Sprint methodology for websites, apps and digital experiences, the Design Sprint has helped teams draw inspiration in a time efficient way without losing focus on creativity and the user at the heart of the design.
So, what are the steps in a Design Sprint process? A Design Sprint is a 5-day agile approach to building and validating concepts. 
Monday: Problem identification and journey mapping.
Tuesday: Solution creation.
Wednesday: Idea selection and storyboarding remaining screens.
Thursday: Protoptyping.
Friday: User testing with the target audience.
Read on for a breakdown of each day in the Design Sprint process and a brief overview of the tasks you will need to complete.
Page
Jumps
Main Steps in the
Design Sprint

Process Schedule 

At PixelTree Media, we have created a guide for the Design Sprint process, which breaks down each 5 days in detail. This Design Sprint process allows for your team to work together and compress months of work into a single working week.

With the help of our Design Sprint process guide, we hope with your team, you can clear your work schedule for a week to dedicate it to the Design Sprint. Each day will help you to progress a problem into a tested solution along with answering your question: 
Monday –
Day  1

of the Design Sprint Process
Define the challenge
Before you start the process of a Design Sprint, it's important to know what problems or challenges the organisation as a whole is experiencing before thinking of new ideas. Ideas alone can be positive, but if they have no wider purpose than just being a suggestion, then they'll ultimately not contribute towards your goals the way you'd want them to.
That's why on day 1 of the Design Sprint process, it is important to try to create a solid foundation for the rest of the week.
Task 1: Discuss long term goals
In the early days of travelling by sea, sailors would often refer to the North Star for navigation (as it was a reliable way of deducing which direction was north). Long term goals replace the North Star in a Design Sprint process, acting as a compass for directing your Design Sprint to success.
The goals for your Design Sprint must be relative to the company (and they don't have to be quantitative) but could be anything from: 'We want to increase users' to 'We want to be the market leader'.
Understanding and reminding yourself of your goal will give your team clarity when it comes to working through the Design Sprint Process.
Task 2: Convert goals into questions
The disadvantage with Design Sprint goals is that they're a bit vague. They act as a target, but with no clear way of reaching it. Making goals into questions however, is very effective as it makes the big problem actionable.
To make questions from goals, ask these questions:
'To achieve our goal, we need to know…': 'To achieve our goal, we need to know…'

: This highlights any gaps in your team's knowledge that can be explored in the Sprint. E.g. "to achieve our long term goal of using AR for boiler repair calls, we need to know how the engineer would approach using the tool". A question could then be, 'How can we make a seamless repair visit via phone?'

Why you might not reach your goal:

The success of your project may hinge on overcoming some obvious roadblocks in future. Having them identified at this point will help you create solutions that address that point. E.g. We may not reach our target market of over 60's if they do not trust banking apps for savings. The Sprint question would then be, 'How can we build trust with our audience?'
Task 3: Map out the journey and sprinkle expertise
Understanding the customer or service journey is vital to spotting opportunities or identifying where you can answer your Design Sprint questions.
This involves creating a simple flow which demonstrates the main business process in question. As an example,this could be the stages which your customer goes through to buy online. Or it could be how your service takes bookings for GP appointments.
It's also important to list the participants in the flow (e.g. customer, retailer, your company) and the stages or actions taken. For more complex examples like Amazon, you may have the customer, retailer, customer support, logistics, so you must keep in mind how relevant actors are in the journey.
With your map complete, we can now sprinkle in expertise. As your Design Sprint team is made up of customer and organisation experts, you can embed the fresh perspective into the journey map. This includes:
Customer Support could highlight increase call volume during the setup process, creating frustration for customers

Sales could explain in detail how the acquisition process works

Marketing could say the client has trouble adding a new payment card

Developers could discuss previous attempts at streamlining the journey
While each expert expands on the map, the rest of your team should create 'How Might We…' questions on sticky notes. This approach not only helps note down any insights but also converts them into questions on the journey map. 
E.g. For a goal of increasing conversions, you may ask 'How might we reduce clicks in our shopping process?'

E.g. If you feel customers don't know the difference between your products, you may ask 'How might we help the customer select the right product for them?' 
Task 4: Confirm your selection
With questions assigned to parts of the map, the team can then organise the questions into groups. For example, which ones concern the booking team, which ones relate to customer experience. This allows your team to remove duplicates and understand areas with more pressing questions than others.
Once complete, the team finally collaborates on a quick round of voting to pick out an actor, a place on the map, and a Sprint question to continue with into the week.

Tuesday –
Day 2

of the Design Sprint Process
Ideation
With the target confirmed, the Design Sprint process follows up with the idea generation stage.
In your Sprint groups or individually, compile as many solutions as possible. You could take multiple approaches to this, but a recommended way of approaching this is via 'lightning demos', which focus on researching and demonstrating solutions found on existing websites, apps, experiences, movies, anything! (find out more about lightning demos here).
Scenario: You're looking for a way people can track deliveries in your app. Example: Review Uber's way of tracking drivers.

Scenario: You want to reduce calls coming into your Support centre. Example: Review chatbots on sites like the Trainline or Dropbox's FAQs.
With these items compiled, you can then share ideas amongst the team to give a full picture of what's possible.
Individual participants will then draw out solutions, referring to the key findings from earlier or developing something entirely new. It doesn't need to be a Picasso painting, but should be something people can understand and briefly outline how your concept would work.
Three quick tips for sketches:
It needs to be easy to understand and clear

It's okay to have writing to explain different parts

Trial different designs and layout for the same concept. You might find a better way of presenting it
Wednesday –
Day 3

of the Design Sprint Process
Storyboarding
By the end of Tuesday, you should have plenty of creative solutions to solve your Design Sprint question with. The challenge at this stage of the design sprint process is narrowing down your options to the cream of the crop.
Putting up the sketches where the team can access them (whether that's a window, whiteboard or a wall), the team can then silently vote with stickers and sticky notes on the ideas or areas of ideas they like best. This could be features, layouts, or entire concepts.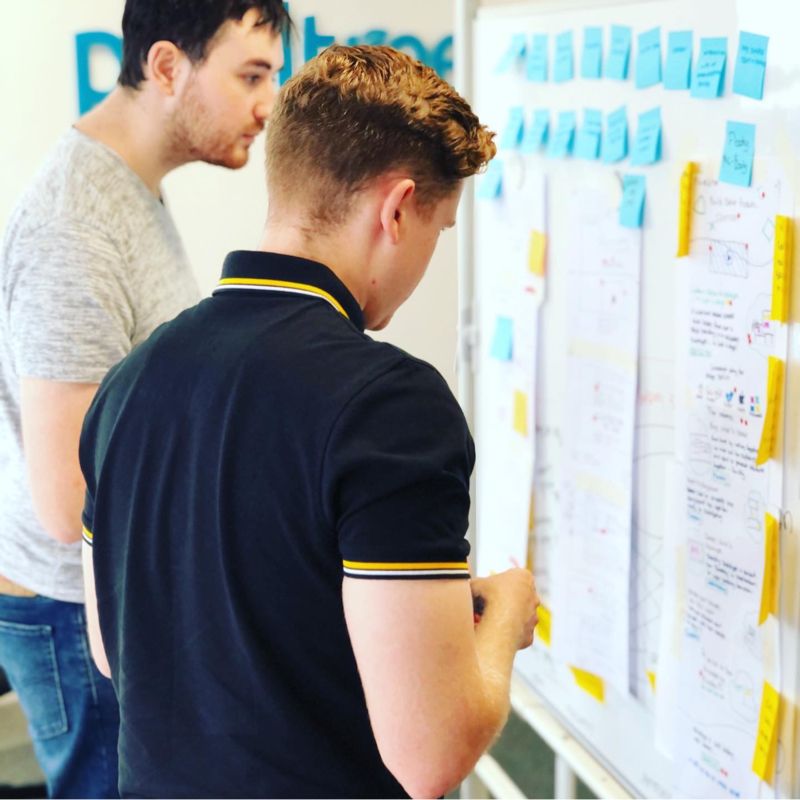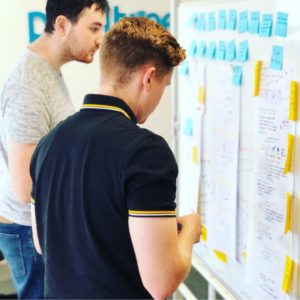 This can be a great way of reading the room and even addressing any confusion, with sticky notes helping participants mention any question or concerns to be addressed.
A final round of voting will occur where solutions are selected to be prototyped, with the decision-maker having access to supervotes to act as a tiebreaker.
With the solution for prototyping now selected, you can proceed to storyboard out the journey in full. This will outline exactly how you want your user journey to be. This ranges from an organic starting point like downloading from the app store or clicking an ad, all the way to the end point, e.g. purchase, sign up, delivery.
By breaking down your journey into a storyboard, you have the advantages of:
Making it easier to debate the necessary stages and what can be streamlined

Attributing meaning to stages, e.g. we need this page as it has crucial information for the customer

Making it easy for your designer to prototype
Thursday –
Day 4

of the Design Sprint Process
Prototyping
With the storyboards now complete, your design team will take centre stage with the aim of creating a realistic prototype in just one day.
For designers, there are a few ways they can go about this:
Swarm the prototype and work as a group on each individual stage

Divide tasks up by breaking the prototype type down into bite-sized tasks for individual team members
The only criteria for this stage going into day 5 is that the prototype is interactive, usable and serves as an accurate reflection of the product, feature or app.
The keys for success at this stage of the Design Sprint process are:
Making sure your team knows their responsibilities and tasks

Get access to the imagery, videos and branding before hand

Have catch ups at set intervals to keep tabs on progress

Ensure your team have food and drink available to concentration levels high
Friday –
Day 5

of the Design Sprint Process
Testing
On your final day of the Design Sprint process, your task is to take your working prototype and test it on your target audience. This requires a few things to be in place:
You have recruited (at least) 5 testing participants who fit your audience's characteristics

You have backups in the event of dropouts

You have scheduled breaks to reflect on data in between tests

You are either testing in person or over the internet via screen share

A list of questions and tasks you want users to complete on your prototype
Ideally, you will have two people involved in managing the interview, one talking and directing the actions the user takes, and another to take notes.
You could also have a designer involved in the testing phase to tweak the prototype and make corrections as they are raised ahead of follow up interviews.
By the end of the day, you will have data that could:
Validate your concept and prove its credentials to investors and your team

Acknowledge areas of improvement or changes that can be made

Highlight shortcomings with your concept and advise a review of other options
Regardless of outcome, a Design Sprint is a positive and proactive solution to getting started fast at low cost, with the benefit being greater certainty in how you use your future resources based on real data.
Get your FREE Design Sprint Guide
Download our FREE guide on running a 4-day Design Sprint complete with stages, tasks and common pitfalls.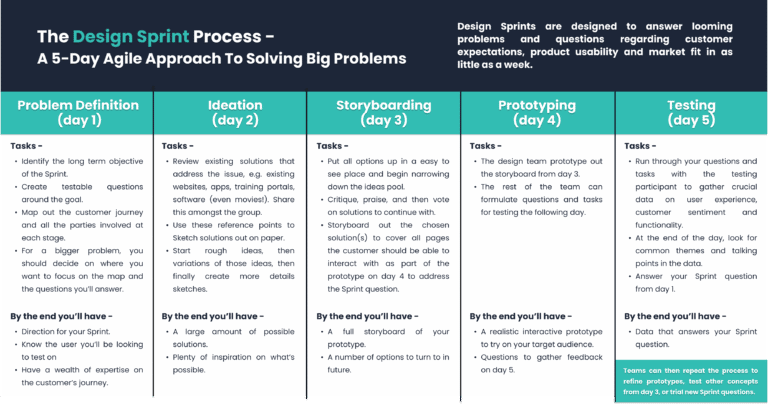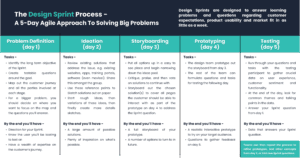 How Does PixelTree's

Design Sprint

Process Differ?
At PixelTree, we love the speed at which Design Sprints help bring new ideas to life but a five-day design sprint did leave us asking, "okay, but can we do it faster?".
Using the Design Sprint 2.0 framework (the only alternate Design Sprint framework approved by its inventor Jake Knapp), the PixelTree team utilise the streamlined 4-day Design Sprint process to concentrate activities originally designed for the first 3 days into just Monday and Tuesday.
This increases daily progress dramatically while also freeing up Friday to reflect on the week.