How to Use Lightning Demos to Solve Big Product Issues 
We've all had demos before. They come in all shapes and sizes, from private software demos with a sales rep and free samples of exciting food (thanks Costco) to old school video game demos on CDs and TV timeslots designed as demos (talking to you shopping channels). 
Demos in fact play a crucial role; they help us evaluate ideas, share information, and inform our purchase decisions when we're in store or at the online checkout, and that's why they can play such an important role in testing out new product ideas, UX flows or user interfaces. 
However, while modern thinking would have you think you need to knuckle down in brainstorms for the next few days or weeks, there is a better way. Lightning demos can be super effective tools for getting your team to generate and visualise new product ideas and features fast.  
What's a lightning demo? Lightning demos are a number of quick-fire show-and-tell demonstrations between various team members presenting existing solutions in the industry or wider marketplace that solve the given problem. 
Read on to find out how you can harness lightning demos to generate up to 20 great solutions to product problems fast.
What are the benefits of lightning demos?
It's completely fair to ask "what's in it for me?" using lightning demos compared to other product idea techniques before going about putting it into practice. 
The benefits of lightning demos include: 
A lightning demo can be easy to organise among your team

 

Requires little time to complete (as little as an hour)

 

Delivers competitive insights (if reviewing how competitors have approached the same problem)

 

Helps reveal industry benchmarks 

 

Encourages exploration of other industries and marketplaces

 

Provides the opportunity to explore new technology for solutions

 

Can be easy to iterate on ideas presented

 

Allows multiple possible solutions to be gathered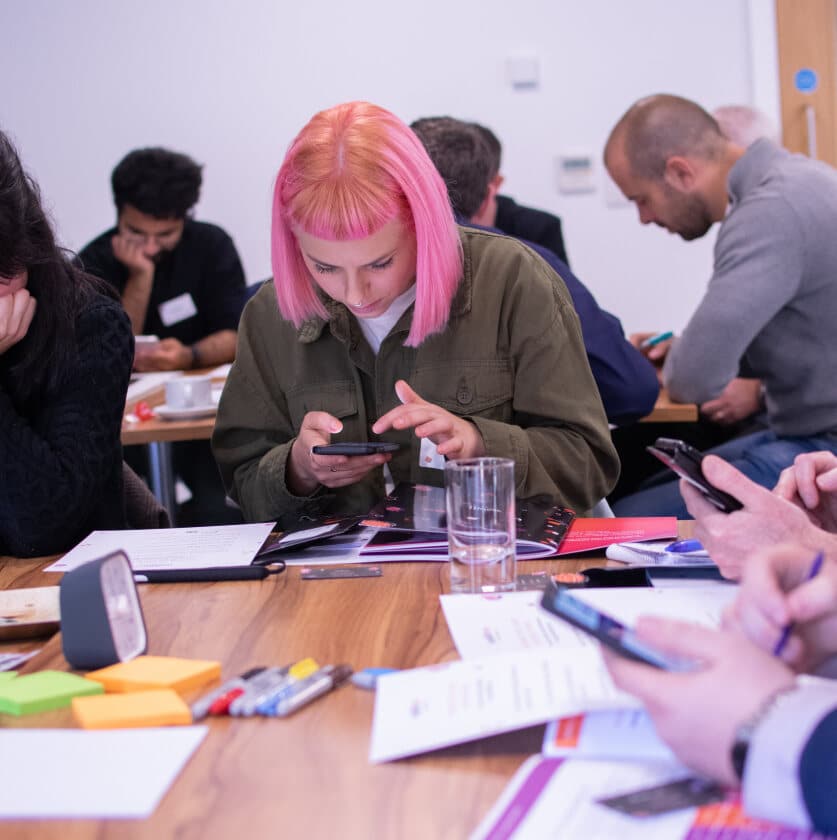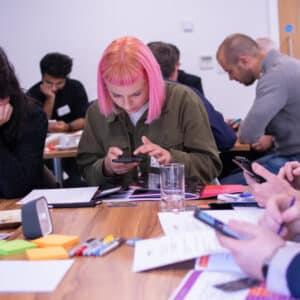 What do I need to run a lightning demo?
To run a lightning demo, you'll need a few things before you start. 
A problem or goal

: What's the problem you are trying to solve through a lightning demo? This is the foundation of any good lightning demo as it helps create alignment in the team and provides clarity which will feed into what examples you look for and who the expert team should be.

 

A meeting room (or quiet virtual space)

: Preferably in a quieter place with fewer distractions.

 

A team

: Who's involved in the project? It doesn't have to just be the Product or UX team, but it can be anyone who understands the customer experience or the scope of the problem.

Tip:

Try and have less than 10 people involved in the process, but there's always a sweet spot. Too many and you could waste time with subpar options, while too few and good ideas might be missed from the search entirely.

 

A clock

: The goal of lightning demos is to get your team to investigate options fast, which means timekeeping is

essential

.

  

 

Access to laptops or phones

: To find examples to demo, allowing access to phones and laptops needs to be permitted (but only for that and not emails!). 

 

A whiteboard/sticky notes/paper and pens (virtual if need be)

: To prevent details slipping the team's mind, you'll need to jot down the key points in a way that's easily accessible to the team.

 

Sticky dots (or virtual ones)

: A way of facilitating voting amongst the team on the best solutions or ideas from the demos.

 

A big screen (or a screenshare function)

: For presenting your findings and conducting the demo for everyone to see.

 
How to run a lightning demo 
Step 1: Information gathering
Ask your team of experts to create a list of products, experiences or services they use, are competitors or are experts in their field that might have solved the same problem.  
Using their devices, you can now individually set them off using the timer to research how they approach the problem or solve the goal in question. To make sure that the pressure is on and keep everyone on track, around 30 minutes is sufficient to get results. 
The end result should include a list of good points from the products, experiences or services used jotted down on sticky notes. They should then proceed to narrow down to the 1 or 2 that have the best solution that they'd like to show the rest of the team. 
Step 2: Demos 
Once their ideas are narrowed down, you can now create an order for people to demo in. Individually they will proceed to go through the 1 or 2 best ideas from their research on a big screen, ensuring the team can visualise the experience and understand what the customer goes through. 
The person giving the demo should: 
Explain the key ideas or solutions

 

State how it solves the problem

 

Conclude the key takeaways in relation to your problem and how it fits into your organisation's existing product or service. 
Each demo should last around 3 minutes to keep it "lightning fast", however, this isn't strict rule. From our experience running them with Product Owners and UX Leads, if you strictly obey the timer you can stop people getting to the really important point. If you think someone is about to get to the big point, let the timer tick over. 
While this is happening, someone in your team should be jotting down the key point, a simple sketch of the idea and a catchy title. It doesn't need to be fancy, but a visual representation of the idea that the team can refer back to later on. 
After everyone has completed their demos, Jake Knapp, author of the book Sprint, estimates you should have between 10 to 20 ideas.  
TIP: You don't need to debate at this stage. Just let the ideas flow and get their time to breathe. Decision and debate can take place at a separate stage as it otherwise hampers ideation.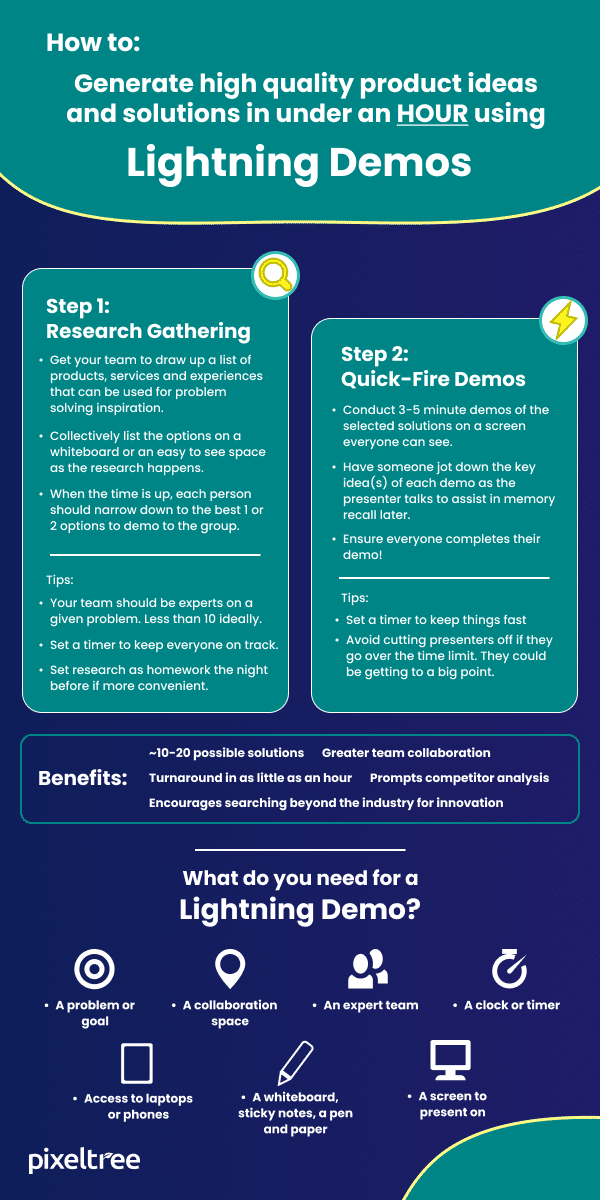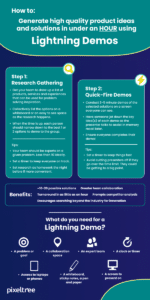 What happens after a lightning demo?
The phase post lightning demo is where you'll have to decide what to do with the mass of ideas at your disposal. You can vet ideas by their plausibility and resources available, but we'd always recommend that you judge this based on the biggest impact this will have on your original objectives/problems you have and customer experience. 
Doing this as a team using the same experts is ideal as this will allow their expertise and familiarity with what has been demonstrated feed into more in-depth sketches and stronger rationale behind why it would be the best solution.  
When should I use lightning demos?
Lightning demos are a versatile option for problem solving and inspiration, meaning they can be used by Product Owners among other senior team members in situations like: 
When solutions are needed to a problem fast

 

When you want to investigate a variety of different options

 

When completing a Design Sprint on day 2 (find more information on the Design Sprint process here)

 

When you want maximum team input across departments

 

When you want to explore the approaches market leaders or competitors have adopted