What UX Factors Affect Conversion Rate?
Conversion rates can be affected by many different factors, and a lot of business owners feel lost when theirs isn't performing like they'd hoped. While trying to improve conversion rates can be tricky, one of the biggest impacts can come from improving the experience of your users. 
By improving their UX, business owners consistently see a high return on investment (ROI), making it one of the best investments you can make.
So what UX factors affect conversion rate? The main UX factors that can affect conversion rates are speed and responsivity, optimisation for mobiles and tablets, navigability, visual appeal, and content. All of these factors enable the user to find and complete conversions easier, leaving them with a positive experience so that they might return.
Keep reading to find out more about how UX can affect conversion rates and which factors matter the most. 
Can User Experience Affect Website Conversion Rate?
Users often leave a site within 10-20 seconds if they don't like what they see. So, ensuring that everything is simple, easy to use and understand, and creates a positive experience and offers a massive boost to conversion rates. After all, you can't convert a user that's already left the site.
When a user loads up a site for the first time, one of the first things they're assessing is if the site is trustworthy. The level of trust a user has with a site can also affect the conversion rate – users aren't going to put their email address or card details into a website that they don't trust. 
While not exclusively dependent on UX design, a website can lose a user's trust through poor navigation, visually unappealing design, unresponsive pages, and hard to use forms and checkout processes.
Even with landing pages that potential customers have clicked on with the aim of purchasing, a poorly designed site can frustrate them and lead them to go elsewhere. Through the use of effective hierarchy, call to actions, content readability, and appealing visuals, you can effectively focus the user's attention and direct them on what to do next. 
As an extra bonus, leaving customers with a positive experience can encourage them to come back in the future whether they've made a purchase on the first visit or not. With repeat customers, this greatly increases your conversion rate because they'll be logging onto your site with the intention of buying something similar, or the same thing, as a product they already liked. While this also depends on the quality of the products or services, if they've had a frustrating experience on your site they might choose to go elsewhere next time.
It's estimated that for every £1 spent on improving UX design, you can expect up to £100 in return – showing that UX can definitely impact conversion rates in a major way.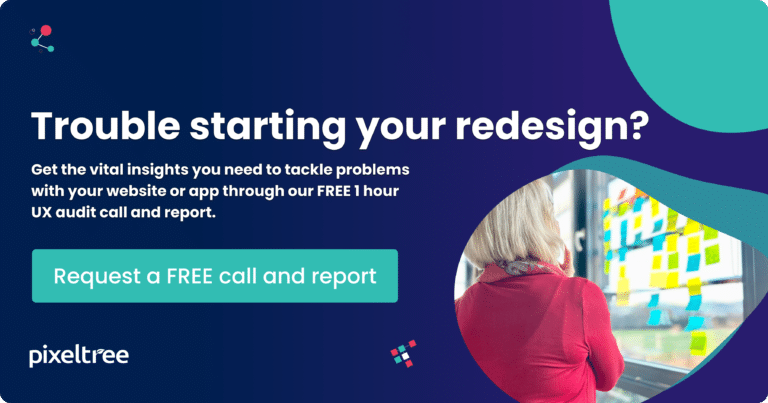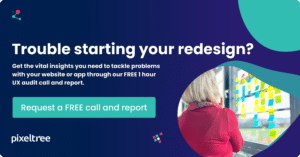 Do you think your website might benefit from better UX design practices but not sure how? Book your free UX Audit today to get expert insight into your site.
What Factors Impact UX Conversion Rate?
Conversion rates can be the difference between record-breaking sales and a sales funnel on life support. The issue is that improving conversion rates can be one of the most confusing aspects of growing your business. 
Many companies aren't aware that their user experience could be preventing customers from converting, instead opting to change their offering entirely in the process without due diligence, and the few that do realise this often don't know how to fix it. 
If you fall into these categories, or are just more interested in learning how UX influences conversions – this guide is perfect for you. We put together this easy list of the main UX factors that could be restricting your conversions.
Key factors that influence conversion rates from a UX perspective are:
Page Responsiveness
Device Optimisation
Content
Page Design
Navigability
1. Page Responsiveness
If a website doesn't work as it should or is too slow and unresponsive, it can result in users getting frustrated and moving on to a different site. The longer a user spends on the site, the more chances you will have of converting them as they'll see more products and services that they might find interest in. Improving page loading times and ensuring that your site doesn't include any broken links can heighten the user experience and positively affect conversion rates.
2. Device Optimisation
If a website isn't optimised for mobiles then it can lead to the same frustration for the user, resulting in them leaving the site. This is often seen when using mobile phones. Some companies don't optimise for mobiles and instead use the exact same design on a smaller screen. This can be difficult to use and may skew the design/layout.
While creating a responsive design takes time, it's essential if you want to increase conversion rates. In 2022, more than 90% of users accessed the internet via their mobile devices, compared to 59% via a personal laptop or desktop. By designing solely for desktop, you could be missing out on a large amount of conversions.
3. Content
The way that content is displayed is an important aspect of UX design. If users see a large block of text, they could be put off from reading it and learning about what you have to offer. On the other hand, if your content is displayed in a way that grabs attention and piques the user's interest – you'll keep them on-page for longer and have a higher chance of converting as a result.
While large blocks of content can make users click away, we need to ensure that all of the information that's needed is available to them. Customers like to make an informed decision on their purchases – they're unlikely to buy something when they can't find the information they need.
4. Page Design
If the design of the site is attractive and grabs attention, then the user is more likely to stay on the page longer. As previously mentioned, the longer the user stays on the site, the more chances that you'll have to convert them.
A visually appealing design will also provide a level of trustworthiness to your site. With a poorly designed site, people tend to question the authenticity of the product and service. With a sleek design, they typically trust the site more because the company clearly invested time and money into it. 
Making your call to actions stand out and look visually appealing can also help to encourage the user to click. An effective hierarchy on each page could lead the eye across the most important information before ending on the call to action, meaning that the customer digests everything needed before making a decision.
5. Navigability
We've all been on sites that are incredibly hard to navigate and you just can't figure out how to find what you want. In this case, many users will just go back to their search results and choose the next option.
Navigability is a key part of a smooth user experience that not only enables your users to find what they want, but also to see extra products and information that could potentially add extra value and conversions.
Prioritising menu design, what items are presented and the ease of reaching key conversion points should be top of mind when designing your user interface.
Optimise Your UX Conversion Rate with PixelTree
At PixelTree, we help create exceptional digital experiences that elevate your business to a whole new level. Our team of digital enthusiasts are experienced in UX design and we're as passionate about your business as you are!
Whether you're looking for a UX audit for your existing site, a memorable design for an upcoming project, or a full design and build of a new digital product – we have your back. Get in touch with us today.