An in depth guide from PixelTree
It's no secret that websites are complex things. With hundreds and sometimes thousands of pages all entwined, it's common to lose sight of the reason your website exists in the first place – to serve the user. When carried out correctly, a UX audit will help you realign your website with its main purpose. 
What is UX Audit? 
If you didn't know, UX stands for user experience. 
Experience matters in every kind of business, both online and offline. It's the reason bars serve drinks in clean glasses and why customer service staff are trained to smile. The experience we have with a business impacts how likely we are to spend money with them and whether we're likely to return.
It's easy to manage and understand the experience customers are having in a physical store because you can monitor their body language, feedback and overall happiness. If something is wrong you can ask them. Online, things aren't so easy.
This is where a UX audit comes in. A UX audit is a complex process that seeks to analyse how your users are interacting with your website, app or digital product to understand if it can be improved.
It should use both qualitative and quantitative data, be overseen by people with expertise and an eye for detail, and present clear and actionable insights at the end. These insights are your road to improvement and they can increase your revenue, conversion rate and client base exponentially.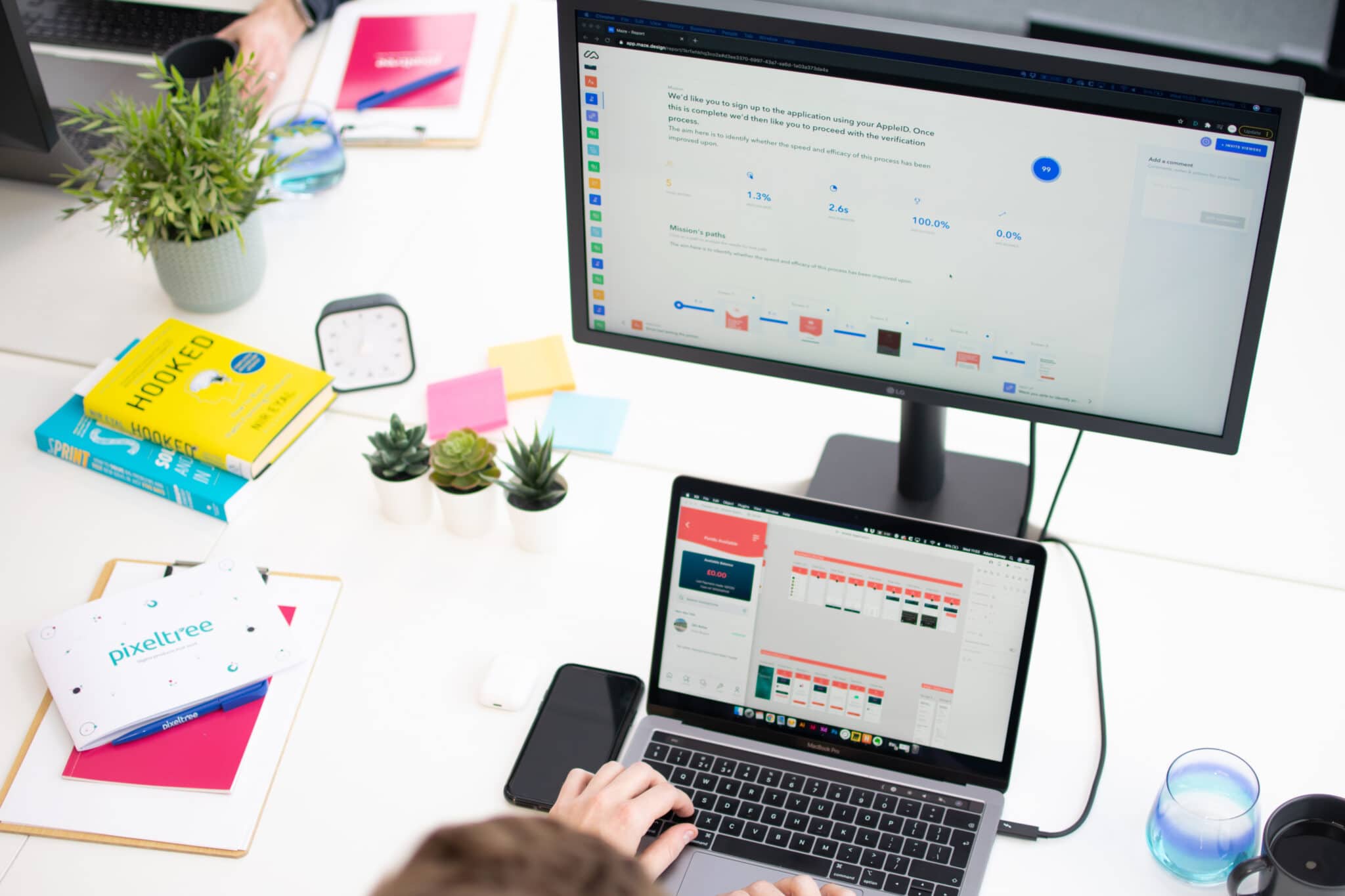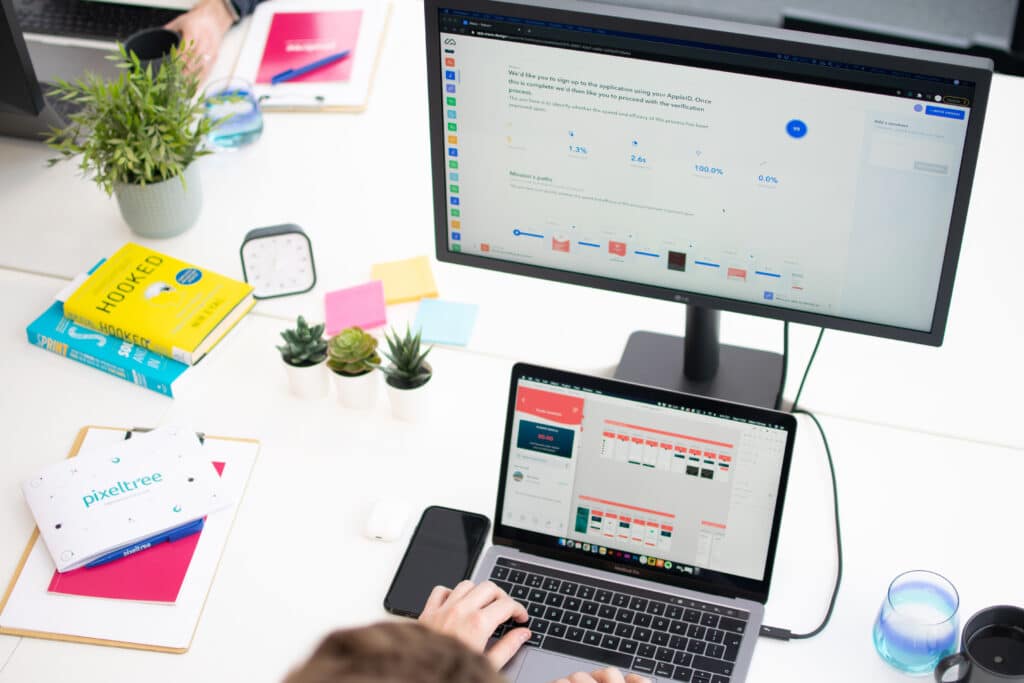 When should I conduct a UX audit?
There is never a bad time to conduct a UX audit. User experience is a road of constant ongoing improvement. The best time to start a UX audit was probably the day that your website was built, the second best time is now. 
There are however some specific scenarios that you should never ignore. If your current predicament falls into one of these categories, it's time to understand a user experience audit.
Your website feels dated and hasn't really been improved for a couple of years.

You're in the early stages of a website/product redesign and want to drastically improve what is already in place.

You've just launched a new product or website but the bounce rate is unusually high.

Your website or product conversions are low.

The key measurable stats on your website/product have started to drop off.

You haven't recently undertaken any customer feedback when using your website/product.

Sales through your website/product have gone flat or worse, have started to fall.

You launched an MVP but require a second opinion on usability or the general User Experience.
Where to start?
Before beginning your UX audit it's important to know the facts and have these front and centre when you conduct the audit. These may have changed since the last time you did any similar customer or product analysis, so always be prepared to follow this process again. 
When we work with our clients on a UX audit we'll uncover the answers to these questions delving into the data and talking to their internal team. You can't conduct an effective audit without the answers.
Who is the user?
There's no point conducting a user experience audit if you don't know what that user looks like. It's important that you analyse who your existing customer base is prior to launching an audit. We like to come up with customer personas with our clients to truly understand what that customer's needs and problems are and how the website can fulfil them.
Identifying purpose of a website
The second thing you need to have a clear answer to is why a website exists. Does it exist to inform? Does it exist to encourage people to call you? If it's an e-commerce website it exists to sell products, but is there anything else we need to think about? For example, does it need to highlight a product's uses if it's a complicated niche?
Identifying what success looks like
Finally, we need to visualise what success looks like. What are we trying to achieve from the audit? This will be guided by the existing data of where you're falling short. Some examples could be: – 
An increase in conversion rate

An increase in customer retention

An increase of customers booking an appointment

A decrease in bounce rate

An increase in dwell time
What is included in a UX audit?
Not all UX audits need to be the same. The needs of the user, the end goal and the current performance can all play a role in shaping a UX audit. By working with a UX Agency like us, you'll be able to create an audit tailored to your needs to truly understand where your website, app or product needs to improve. Here are some of the things that might be included: –
Stakeholder Research – We'll speak with your business' key stakeholders to define success and determine what your business goals are. We need to understand what you want to get out of a UX audit before we begin

User Research – We'll conduct both qualitative and quantitative research to determine what your users' pain points and frustrations are to gain insight into your website's design and functionality from their perspective

Heuristic Evaluation – Here we'll begin to look at your website's functionality from our expert perspective. We'll look at how user-friendly it is based on a set of predetermined heuristics, or guidelines

Analytics Review – We'll use a number of website analytics tools, including Google Analytics, Microsoft Clarity, HotJar and Crazy Egg to determine any usability issues not yet addressed, and understand how your users navigate your website from a data perspective

Suggested Improvements – Based on all of our research, we'll outline some top level design improvements that we think will benefit your website's UX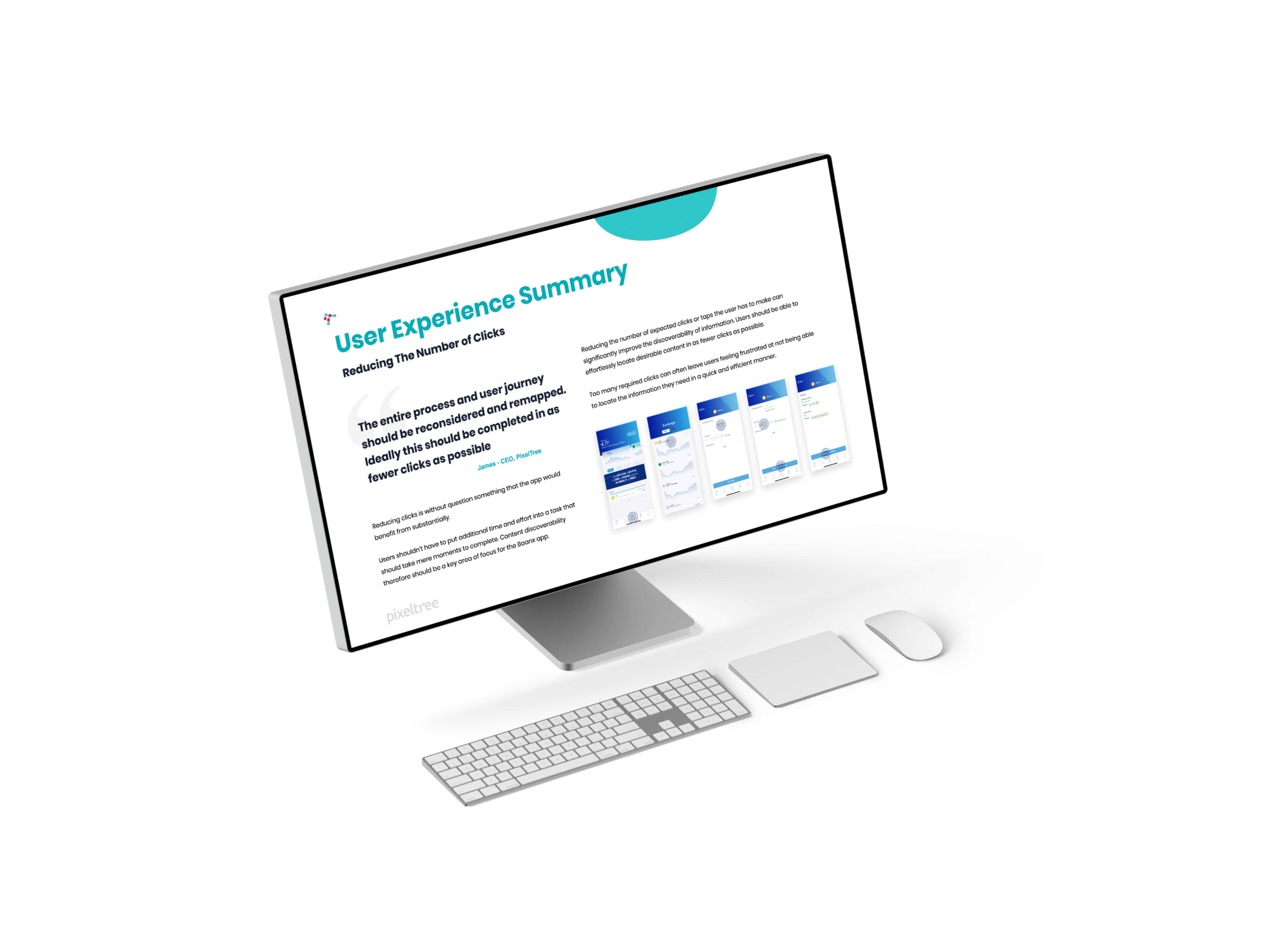 How is a UX audit presented?
Once we've conducted the audit and collected all of the research, it's time to bring it all together in a structured manner that you can understand. At PixelTree, our UX audits are presented 
in a Report Deck format. We'll collate all of the findings along with access to your survey data and user interview records.
Most importantly though, it's important that you understand the findings and the actions that need to be taken in order to improve. These recommendations need to be front and centre for you to understand and if required to relay them to other members of your team or your superiors. 
What happens after the UX audit?
Once you've completed your UX audit you'll have a playbook of where improvements can be made. Now is the time to action these improvements and put them into action. 
The traditional approach
These can be done in a traditional way where you send your recommendations to a web designer who mocks them up before they are built. However, this method has its drawbacks as there is no way of knowing how it will perform until it launches. It's important that you don't fall into the same trap as before by redesigning your website to serve a certain purpose only to find it completely missed the mark, resulting in a wastage of vital marketing spend.
Conducting a design sprint
Here at PixelTree we have long been believers in a more dynamic way of working which delivers results in a highly efficient manner. This is called Sprint 2.0 and we're experts at it. From your audit you'll have a clear understanding of the customer's problem and where the website falls short, when redesigning it you need to know that the problem is fixed. 
We deliver this through a fast and efficient method of design, prototyping and user testing in a matter of days before delivering the final product that we KNOW will work. You can find out more about how this process works on our Design Sprint page. 
Love the process
It's important to point out that no UX audit is final. Delivering a user experience that always serves the user requires constant ongoing measurement, auditing and improvements. Building user experience into your marketing strategy and budget long term is the only way that you can guarantee success. 
PixelTree works with a number of different clients on this ongoing basis, constantly striving to deliver a perfect user experience that works seamlessly. If you don't know where to begin, contact our team today for a free consultation.